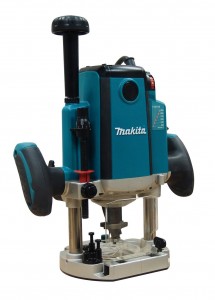 Right now at Amazon you can get your hands on that Makita router you may have been pondering buying for less than you may think. This time around Amazon is offering $20 off $100 for select woodworking tools, but you better hurry because this deal expires March 31, 2013! Please also know, not only are routers on sale, they have a broad selection of other Makita woodworking power tools available for this promotion including: sanders, handle or barrel jig-saws, hand or sheet-fed planers, and miter saws. We are going to breakdown the Makita routers available for this promotion…
Please note: Savings will be reflected in your cart at checkout. Make sure to verify this savings! Prices can change hourly at Amazon and the prices below may not be the same.
Of all the items being offered in this Makita sale, no other type of item has more options than routers. Here are the routers available for this special savings event:
3-1/4 HP Makita Routers on sale:
The 3-1/4 HP routers best suited for heavy duty router work and targeted toward fine woodworking, cabinetry, furniture making, counter tops, decking, windows and doors, and general carpentry. If you are routing your own mouldings or making other deep cuts, these models have the power to churn out foot after foot, hour after hour. Difficult to bog down assuming your maintain your bit sharpness. Both models in this power line are plunge allowing more versatility with your cuts:
Makita RP2301FC 3-1/4 HP Plunge Router (Variable Speed) – $304.96 – with discount $284.96
Makita RP1800 3-1/4 HP Plunge Router – $269.00 – with sale savings $249.00
2-1/4 HP Makita Routers on sale:
This power line is great for all-around router. It comes in a small package making it easier to maneuver, while still being able to maintain power for the slightly tougher jobs. The RF1101 Kit comes with a fixed base and plunge base providing max versatility.
Makita RF1101KIT2 2-1/4-Horsepower Variable-Speed (8,000 – 24,000 rpm) Plunge Router Kit – Fixed and Plunge Bases plus Case included – $249.00 – with sale savings $229.00
Makita RF1101 2-1/4-Horsepower Variable Speed (8,000 – 24,000 rpm) Router – $189.00 – with sale savings $169.00
Makita RD1101 2-1/4-Horsepower Variable Speed with D-Handle Router – $225.33 – with discount: $205.33
1-1/4 HP Makita Routers on sale:
Smaller, more versatile control, but lacks the true power needed for larger and harder jobs. Can be used on any job, just might need to make multiple passes where higher horsepower models can complete in a single pass.
Makita RT0700CX3 1-1/4 Horsepower Compact Router Kit – includes Plunge, Tilt, Fixed, and Offset Bases! – $228.99 – with sale savings $208.99

Makita RT0700C 1-1/4 Horsepower Compact Router – $99.00 – for this item, you will need to add another eligible item to your cart to break the $100 mark and save the extra $20. Finishing sanders are the cheapest items to accomplishing this.
Makita RP0900K 1-1/4 Horsepower Plunge Router – $149.00 – with discount: $129.00