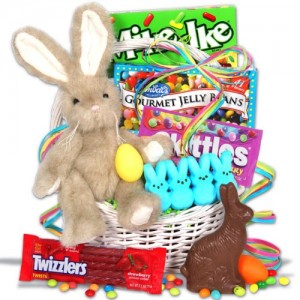 Easter is right around the corner, and Amazon is helping you get prepared by offering some great deals in their Easter Shop. Aside from the obvious advantage of avoiding the crowded stores, Easter shopping at Amazon offers lots of great savings opportunities on all kinds of essentials like baskets, clothing, decor, candy, toys and gifts. We've highlighted two top deals below, but make sure to check out all the specials in the Easter Shop for maximum savings opportunities.
Amazon has a nice selection of pre-assembled Easter gift baskets perfect everyone on your Easter gift list, with a range of price points for any budget. Some of our favorites:
Broadway Basketeers Chocolate Photo Gift Box – $27.99
Featuring an assortment of Ghiardelli truffle squares, chocolate covered nuts and assorted Bavarian pretzels drizzled in dark and white chocolate. Packaged in a beautiful wooden reusable photo box and finished with a ribbon, this basket makes a great gift for just about anyone. The price point makes it even sweeter for you.
Easter EggStravaganza Chocolate and Candy Box with Plush Bunny Rabbit – $45.53
Perfect for kids, this adorably decorated Easter gift box features a soft plush Easter bunny and sweets galore, like milk chocolate Easter eggs, Marshmallow Peeps, Jelly Belly Peter Rabbit jelly beans, cookies and more. The decorative, lidded box is reusable.
Cottontails Cookie Collection Easter Basket with Plush Bunny Rabbit – $65.99
For anyone who loves cookies! This bow-wrapped basket features ready-to-eat, hand frosted cookies in fun Easter shapes, a gift box of gourmet lemon cookies, and a colorful plush Easter bunny. Truly a gift that keeps on giving, it also features a 7-piece Easter cookie cutter set for future cookie-making fun.
From favorites like and Hershey's eggs to Ghirardelli chocolate, gift baskets and even organic offerings, Amazon has lots of options at a great savings. This is a limited time offer, available while supplies last, on items sold by Amazon.com. Discount is reflected in prices shown. Here are our top Easter basket candy picks:
Cadbury Easter Royal Dark Chocolate Mini Eggs 10 oz. (Pack of 4) – $16.37
These yummy mini eggs are crispy inside with a dark chocolate coating on the outside. Perfect for Easter baskets or the candy dish. You'll be glad you stocked up when you see how popular these little eggs are.
Dove Chocolate Bunny, Silky Sooth White Chocolate 4.5 oz. – $3.62
We love that this bunny is made from white chocolate instead of the traditional milk or dark varieties. And the bunny himself couldn't be cuter.
Annie's Homegrown Bunny Shape Pasta and Yummy Cheese Macaroni & Cheese 6 oz. (Pack of 12) – $20.88
Well, maybe not for the Easter basket, but the kids will love these cute bunny-shaped noodles in yummy cheese. You'll love that it's organic and good for them. For maximum savings, buy the multi-pack.